Search engine citations is a term I use to analyse and optimise Search Engine Campaigns for the purpose of this article.  This article will explain some basic tools you can use for the next advertising campaign.
The what's what reports from Google Analytics will be discussed. Google Analytics is a great product to use as a tool to analyse the competition. I call it search engine citations because it refers to search engine traffic similar to highway traffic.
You can improve your marketing strategy with the Google Analytic Reports discussed in this article. Online competitors can spring up anytime and its important to be on top of the competition. A way to do this is to track keywords that have been tagged in Google Analytics and see which ones people are attracted to.
The best way to stay on top of the game is to be able to differentiate between sponsored and non sponsored search traffic. That way you can get a realistic picture of your campaign results. It is also important in this process to tag search engine traffic appropriately. Tagging is another function within Google Analytics. The Travel Acquisitions Overview, Search Console Overview and Keyword Reports are a way you can measure results. There are advanced reports in Google Analytics, but I'll just focus on  3 standard reports for now.
When we think of the customer behaviour we need to consider that point in time when a reader becomes a buyer. This process refers to when the customers moves from being interested to having intent to buy something online. Standing at the crossroad of interest and intent is at the heart of what I am talking about here. The first What's What Report from Google Analytics is The Travel Acquisitions.
The Travel Acquisitions Overview. (Search Engine Citations 1)
This first what's what reports shows all search traffic , organic traffic and SEM mediums. Throughout Google Analytics you will see SEM referred to paid (traffic) and, organic search (traffic from Search Engine Optimisation (SEO) efforts) as non-paid traffic. This report shows search engine traffic by Acquisition, Behaviour and Conversion.
The Traffic Acquisition Report will tell you all this and more. For many marketers, this will be their first step in the reporting process and one of the most important reports to have. This is because the Traffic Channels report displays your top marketing channels that drive traffic to your website.
There are eight types of default channels in Google Analytics. Each offering an effective way to gauge the current state of your marketing and figure out the paths visitors are taking to get to your e-commerce site.
The eight default channels are:
Organic Search – Indicates visits from organic (unpaid) search results.
Direct Search – Indicates visits where users navigate directly to the URL or the source of the visit is unknown.
Paid Search – Indicates traffic from PPC campaigns run in search results.
Display – Indicates traffic from display advertising, such as Google AdWords remarketing campaigns
Referral – Indicates traffic where users clicked a link from another site, excluding major search engines.
Social – Indicates visits from social networks (Facebook, Twitter, etc.).
Email – Indicates traffic from links clicked in email messages, whether mass email marketing or individual messages.
(Others) – Indicates traffic from online advertising outside of search and display, such as cost-per-view video advertising.
By gaining an understanding of each channel, you will find that this report will help you explore which marketing channels is best for your business. You can access these in multiple reports, but for a basic Google Analytics reporting setup you can navigate to Acquisition >> All traffic >> Channels.
The Acquisition menu and options allows you to analyse campaigns and group performance by keywords. Your actions operate around keywords; or moving keywords around as you optimise the campaign structures, add groups, and ad copy or by changing bids and adding and removing keywords. Ultimately SEM come down to the keyword level and how keywords relate to ads, landing pages and campaign structure. This can make the meet the difference between intent to buy or just interest. The second What's What Report is the Keyword Reports under the Acquisitions Menu in Google Analytics.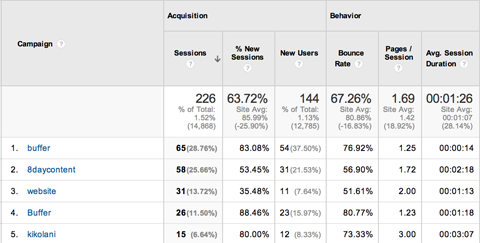 If you're carrying out SEO, you want to make sure that the effort you're putting into optimising your site is working as intended.  This doesn't just mean regularly checking where your site is appearing on Google for your chosen keywords.  It should include analysis of the pages that those target keywords are driving traffic to, and whether the users that land on those pages are actually converting once on your site.
Ideally, you'll want to find out whether your target keywords are driving traffic to appropriate pages across your site.  To do this, you can use Google Analytics to explore which keywords are driving the most traffic to your site in more detail.  Furthermore, by setting up a custom report to track the behavior of users referred to your site via organic search, you'll be able to analyse your keyword performance in greater detail – for free!
Jaaxy is the SEO program I use and its available for free unless you want to upgrade for more advanced settings.
You can try it out BELOW and read more about it HERE.
The Google Analytic what's what reports contains three tabs of highly relevant information around the keywords that are driving visitors to your website through organic search.  This report is completely free, and you can download it by clicking on the following link when logged in to your Google Analytics account.
The Search Console Overview – is the third what's what report from Google Analytics.
Search Console lets you easily monitor and in some cases resolve server errors, site load issues, and security issues like hacking and malware. You can also use it to ensure any site maintenance or adjustments you make happen smoothly with respect to search performance.
This shows you
top countries
position in google search
Impressions and top devices
How many visitors come to your site and how did they get there?
How many clicks in one day/month/year?
How can we turn more visitors into customers?
Google Analytics has the ability to give you this information. Once you have your report all set up you don't have to be a computer wiz each time you use Google Analytics. You can improve your marketing strategy by using these standard Google Analytic reports.